Resources, books and CDs by Faytene and Robert Grasseschi / /
Our store is currently being upgraded.  If there is an item you are looking for that you do not see here please contact us at info@v-kol.com and we will be happy to serve.
E-Books
One Dominion Book
00036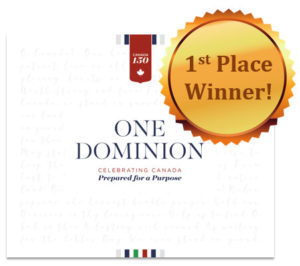 "One Dominion" has been awarded First Place in the Self-Published, Adult Non-Fiction category at the 32nd Annual New York Book Show!
Celebrating 150 years of Canada, this beautiful book captures the momentous celebration of the Dominion of Canada. With inspiring accounts of individuals who founded our country upon the Living Word of God, "One Dominion" will take you on a journey through history, uncovering a deeper understanding through Scripture. This is also an exploration of how and why Canada has been transformed into a country of remarkable peace, freedom and prosperity. Paul Richardson and Bob Beasley identify our purpose and mandate as a nation, revealed in Psalm 72:8, inscribed on the Peace Tower of Parliament Hill: "He shall have dominion also from sea to sea, and from the river unto the ends of the earth." (KJV)
Celebrate 150 years of Canada with Bible League Canada!
Softcover, matte lamination with spot gloss and foil stamping; 12″ x 10″, 96 pages; full colour interior.
Reg. $29.99 + shipping / handling ($13.50 (these are Canada Post rates for the dimensions and weight of the book)).
Faytene Grasseschi  Robert Grasseschi purchase Stand On Guard Canada Book Store Online